CUPS AND CONES

The meadows original frozen custard or frozen yogurt — our own family recipe that has remained unchanged since 1950. Made fresh throughout the day – EVERY DAY – right in front of your eyes FROZEN CUSTARD: vanilla, chocolate and two 'flavors-of-the-day' FROZEN YOGURT: fat free no sugar added vanilla and a low fat flavor-of-the-day

SUNDAES

Two dips of the meadows original frozen custard or yogurt with any of the following toppings; finished with whipped cream and a cherry. hot fudge, walnut, peanut butter, cherry, strawberry, butterscotch, marshmallow, pineapple, chocolate, fat free caramel, sugar free hot fudge nuts or additional toppings are extra
SHAKES AND FROSTS

Our shakes are thick and creamy – just like you remember! frosts are our own ultra thick shakes – so thick you will need a spoon! strawberry, blueberry, raspberry, vanilla, chocolate, walnut, banana, cherry, root beer, pineapple, peanut butter
ARCTIC SWIRLS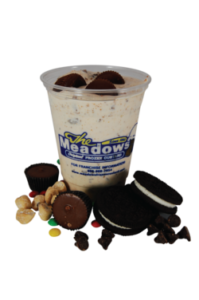 The meadows original frozen custard or yogurt blended with your favorite candy, nuts or fruit Snickers, Oreo, M&M, Heath, cookie dough, Nestle Crunch, Twix, Butterfinger, Reese's Pieces, chocolate chip, peanut butter cup, hawaiian delight[/one_half]
MEADOWS FAVORITES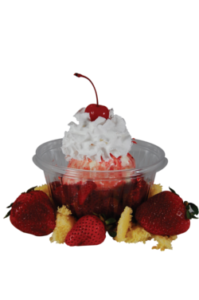 Our own special sundaes and treats! banana split, black cow, strawberry shortcake, turtle, orange fluff, brownie sundae, apple dumpling sundae, chipper custard sandwiches, waffle cone sundae
ITALIAN ICE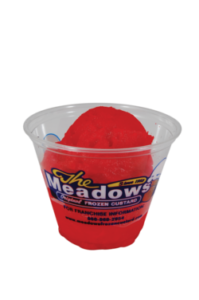 Smooth, creamy, flavorful and FAT FREE! * Please ask which flavors are available from the following selection: watermelon, strawberry, mango, cherry, pina colada, orange creme, lemonade, blue raspberry, passion fruit, root beer
GELATI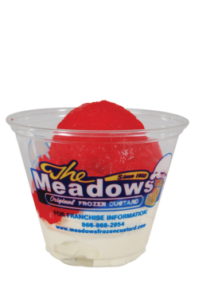 Our own smooth, creamy frozen custard layered with any of the above Italian ice flavors.
SMOOTHIES

A fat free frozen drink made with our frozen yogurt and real fruit: strawberry, banana, pineapple, blueberry, raspberry, cherry, strawberry banana
CAKES

The Meadows frozen custard and frozen yogurt cakes consist of two layers of frozen custard or yogurt, a layer of rich chocolate cake and a delicious creamy milk fudge center. We will create a cake to your specifications – your own combination of custard or yogurt flavors, cake flavor or center filling – call your local Meadows for details!
TAKE HOME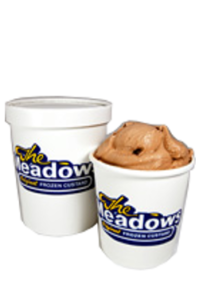 Choose from our selection of pre-dipped quarts or a quart or pint dipped fresh from today's flavors!